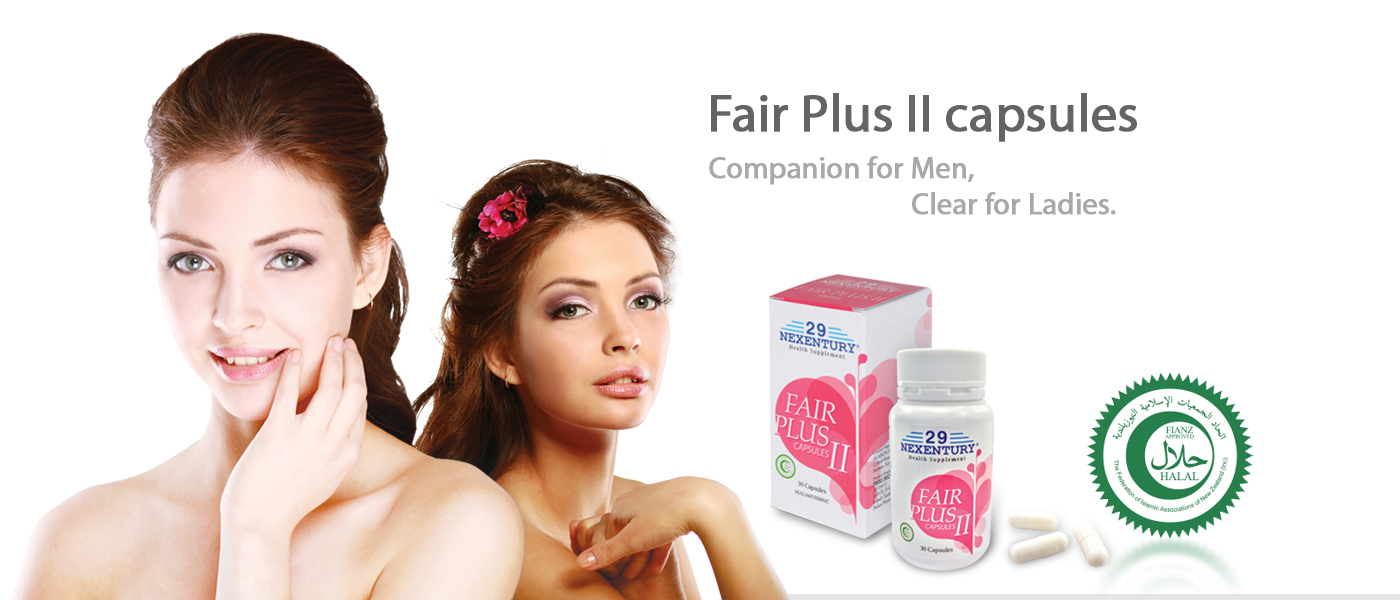 RM 0.00

In Stock
Payment Method, Shipping Terms & Refund Policy
Introduction
Ever dreamt of being that person who effortlessly captures attention, receives heartfelt compliments, and enjoys all the envy? In the hustle of our stress-filled lives and the constant onslaught of pollution, our skin is constantly under threat. Hence, take the right action before our skin loses its natural glow. Forget relying solely on toners and cleansers since true beauty runs deeper, and it's about detoxifying from the inside out. If you've ever found yourself spending minutes in front of the mirror staring at those embarrassing "dark spots," wishing for clearer, fairer skin, then it's time to move ahead. Introducing Fair Plus II, not just a regular health product, but your skin's new best friend. Crafted for the modern woman who wants to treat her skin to a bit of pampering and rejuvenation. It helps your skin to rediscover clarity and radiance. With its dermatologically advanced formula, Fair Plus II is your ticket to healthy, vibrant skin, a companion on your journey to feeling and looking your best.
Product Description
Fair Plus II is manufactured by a world class innovative lab & one of the largest contract manufacturers of quality health products, in a clean and green environment. It is produced under the highest standards of Good Laboratory Practice (GLP). This product has performed all in house tests to ensure safe, high quality products.
Presentation
Each bottle contains 30 capsules.
Stored in PET or HDPE container (with safety code 2 at the bottom).
Ingredient:
Each opaque white vege capsule contains:
L-Glutathione
Ascorbic Acid
Vitamin E
Opaque white vege capsules transport nutrients past the acid in the stomach and disperse them in the GI tract for enhanced absorption and reflux reduction.
Indications
Fair Plus II is clinically tested, and designed to promote a healthy cycle of skin cell regeneration.
1. Block the production of melanin (by interrupting the activation of Tyrosinase).
2. Help NEW, lighter skin cells rise to the surface.
3. Help block UV rays with organic, plant-based sun filters.
4. Slough off dead, pigmented cells, exhibit whitening effects faster.
5. If helps regain energy & strength.
Contraindications
Patients who are hypersensitive to any of the ingredients, kidney problem, pregnant, or G6PD deficiency.
Dosage
Suggest dosage can be adjusted to the adapt conditions or personal needs.
Usually, the dosage taken will refer to each body condition & size.
Adult: Take 1 (one) capsule daily after a meal, and continue for one course.
Consume 6 bottles (180 capsules) as one treatment course.
Storage
Store in cool dry place below 30°C, protect from light. Keep out of the reach of children.
This is a supplement product advertisement
Ministry of Health Malaysia Reg. No.: MAL16015006NC
Product code: W203
KKLIU No. 2063/2017