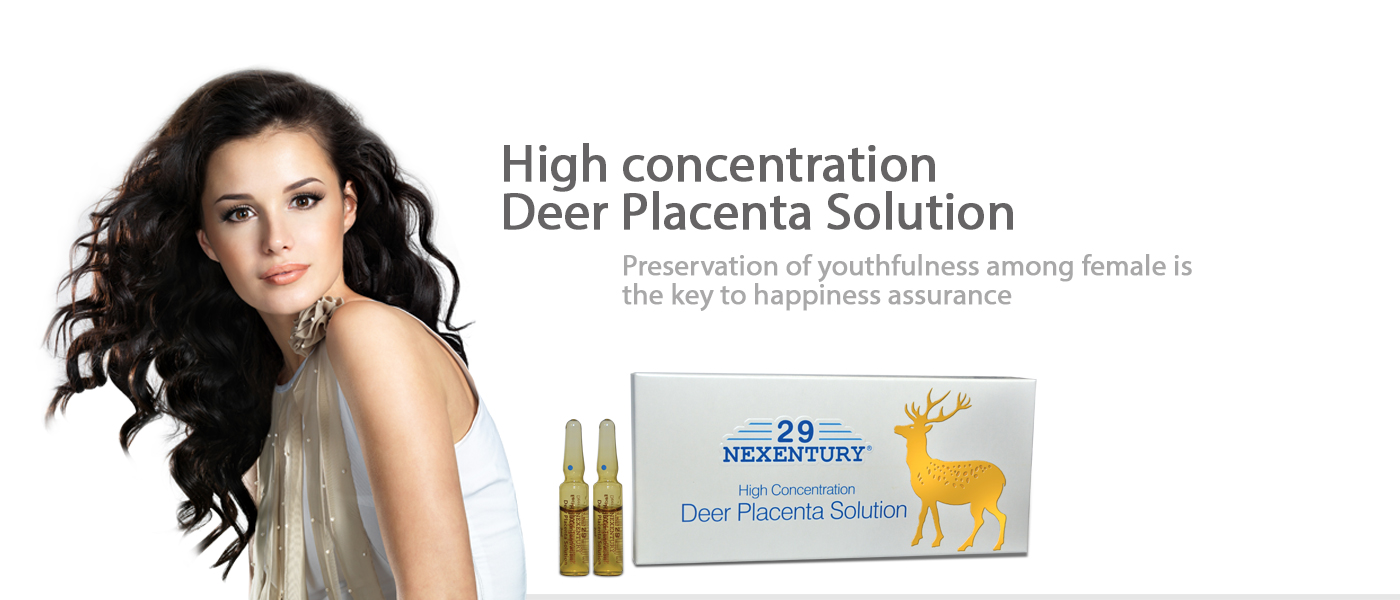 RM 0.00

In Stock
Payment Method, Shipping Terms & Refund Policy
Product Description
Extracted from the finest and well nurtured Switzerland fresh Sika deer placenta. It contains rich amino acid, adhesive polysaccharide, gonadotropin, Vitamin E and B series, ferment (malic acid and hydracid)and various minerals like calcium, phosphorus, iron, zinc, copper, etc. High concentration Deer Placenta Solution is 100% pure and natural, produced via a unique centrifuge process and the it is Freeze Dried at low temperatures to preserve vital bio-active elements contents.
With the rich growth factors & transfer factors, the extract is 20 : 1; 1000mg of concentrated active material extracted from 20,000 mg of fresh deer placenta.
Indications
Sika Deer Placenta is a rich source of nutrients and growth factors, very closely resembles human placenta biochemically. One of the important components is Hyaluronic acid which is naturally present in the deer placenta. Hyaluronic acid helps in nurturing skin, joint function and improves eyesight.
Deer placenta also contains high level of Insulin-like growth factor-1, IGF 1 which promotes tissue growth and improves health of organs. Almost every cell of the our body is affected by this IGF 1 factor such as liver, kidney, bones, cartilage, nerve cells, growth hormones and even the process of DNA synthesis. Its rich amino acid and gonadotropin play remarkable roles in promoting radiant youthful skin, smoothes wrinkles, improve texture, elasticity/ resiliency, firm & energize skin, tones & invigorates skin, reduces the look of cellulite by moisturizing so that complexion looks revitalized.
Deer is considered to be a "higher order" animal, and deer placenta very closely resembles human placenta chemically. It is extraordinarily nourishing and is completely safe.
Benefits of High concentration Deer Placenta Solution
• Repair skin cells from inside out and let the skin to be more elastic and dynamic.
• Cells, muscle tissues and internal organs are stronger.
• Improve the nutrient absorption capacity and enhance the process of skin renewal.
• Reverse the aging process, reduce fine lines and wrinkles.
• Improve the conditions of facial pores; reduce the opening of the pores, reduce sebum production, promoting smooth and velvety soft skin.
• Improve skin texture and color, whiten and lighten dark spots and freckles.
• Hydrated the skin and lesser fine lines.
Others
• To assist in burning excess body fat and sculpting the body.
• Firm the chest and help to increase breaks size for women who have underdeveloped breasts.
• Increase stamina and energy, improve alertness.
• Improve and enhance sexual performance.
• Help to maintain a stable weight, promote immunity and prevent diseases.
• Improve sleep quality.
• Reduce menstrual syndrome and relieve women's diseases.
• Increase the flexibility of the joints and discs.
• Reduce menopausal symptoms and delay the menopause.
• Promote blood circulation; reduce the risk of suffering from heart disease.
• Improve sleep quality. Healthier eyes with sharper vision.
In order to make this material safe for human, the placenta is tested for disease and purified to remove components that could be harmful. Certain proteins in the placenta may also be rendered inert through the sterilization process that the placenta undergoes.
Deer Placenta is believed by scientists to be the richest source of essential bioactive nutrients, hormones and growth factors necessary for promoting good health.
Dosage
High concentration Deer Placenta Solution can be introduced at various frequencies depending on the indications. In general, it is recommended to have 2 ampoules at alternate day with 60 ampoules as one course. Dosage can be increased accordingly to achieve individual's desires.
Presentation
Each box contains 10 ampoules (each 2ml)
Ingredient
Placental Extract 1000 mg
Equivalent to 20grams (20,000mg) fresh placenta.
Contraindication
Not suitable for people who hypersensitive to placenta related product
Storage
Keep in a cold and dry place, avoid exposure to direct sunlight and keep out of reach of children.

Made in Switzerland

Ministry of Health Reg. No. :NOT 141100948K
Product Code: A503