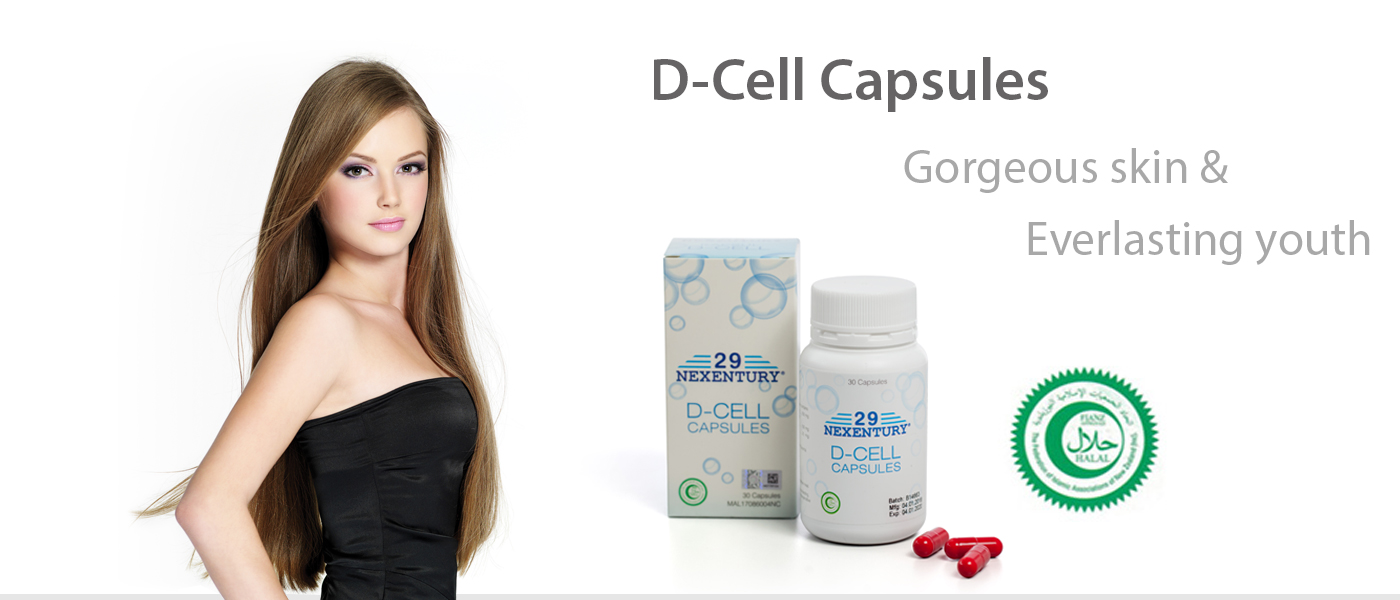 RM 0.00

In Stock
Payment Method, Shipping Terms & Refund Policy
Introduction
Our skin, the largest human organ, is constantly under threat due to the adverse environment and the stressful lifestyle. As time passes, the level of growth hormone in our body keeps decreasing, which reduces the essential components that protect, hydrate and repair our skin. Existence of wrinkles, dry skin, scars, pigments, dark spots will be very common if we do not take action immediately.
Introducing D-Cell Capsule, it brings difference!
D-Cell Capsule is specially designed for us who wish to improve skin texture, elasticity and color. It is nourishing and is completely safe to consume. Its capsule is made from vegetable which can be absorbed easily by our body, delay the aging process and enhance the skin vitality. It will help to hydrate your skin, repair skin cells, slow aging process and refresh your body.
Deer is considered a higher order animal. Deer placenta closely resembles human placenta biochemically and it is very rich in nutrients as well as the anti-aging substances. Scientists believes that the essential bioactive nutrients, hormones and minerals that found in deer placenta are very beneficial to human beings. Besides, deer placenta also contains a high level of growth factors which is important to promote tissue growth and improve health of organs.
Sodium hyaluronate, the sodium salt of hyaluronic acid, is the one of the main ingredient found in synovial fluid and the cartilage matrix. Sodium hyaluronate is often used by Orthopaedics as joint lubricant. It can cover and protect our joint and cartilage, help to ease the joint injury especially caused by overweight loaded or extreme frequency of sports, improve joint contracture and reduces pathological synovial fluid.
Glutathione, a tripeptide, consists of cysteine, glycine and glutamate. L-glutathione (GSH) is a reduced form, acting as a major antioxidant in human body. According the 2014 study of Japan Kyoto Prefectural University, oral administration of L-glutathione gives a better efficacy as it can be better absorbed by our body. L-glutathione will not stay 100% as GSH in our body because some will be converted as oxidized form (GSSG) and stored in our red blood cells and liver. In year 2017, Thailand Chulalongkorn University discovered that both reduced (GSH) and oxidized (GSSG) form of glutathione not only express the anti-aging property, but also possess the skin whitening effect as they are able to reduce the skin melanin level.
With the combination of these ingredients, D-Cell Capsules offer a huge variety of benefits. It helps to enhance our health status. It possesses antioxidant, anti-aging and improves skin health.
Product Description
D-Cell Capsule (made in New Zealand) is manufactured by a world class innovative lab with a Good Manufacturing Practice (GMP) certification in New Zealand. It is produced under the Australian Therapeutic Good Administration (TPA) Standards which are high level of quality control for the natural health product worldwide.
Ingredient
Each red opaque olong hard vege capsule contains:
Deer placenta concentrate powder (species Cervus dama dama) 100 mg
L-Gluthatione 100 mg
Sodium Hyaluronate 25mg
Indications
D-Cell Capsule is a health supplement that refreshes our body parts and functions, offering our users a healthy, young and energetic life.
Benefits of D-Cell Capsule
Slows the aging process.
Improves the nutrient absorption capacity of skin cell.
Enhance skin rejuvenation and regeneration of skin cell.
Hydrate the skin and improves the elasticity and dynamic of skin.
Improves skin textures and health.
Contraindications
Not suitable for people who are hypersensitive to any of the ingredients; during pregnant or breast-feeding.
Presentation
Each bottles contains 30 capsules.
Stored in PET or HDPE container (with safety code 2 at the bottom). With HALAL symbol.
Dosage
It is recommended to have one capsule per day before meal.
Storage
Store in cool dry place below 30˚C, protect from light. Keep out of the reach of children.
Ministry of Health Malaysia Reg. No: MAL17086004NC
Product Code: AS101
KKLIU No.: 0858/2018
This is a supplement product advertisement.