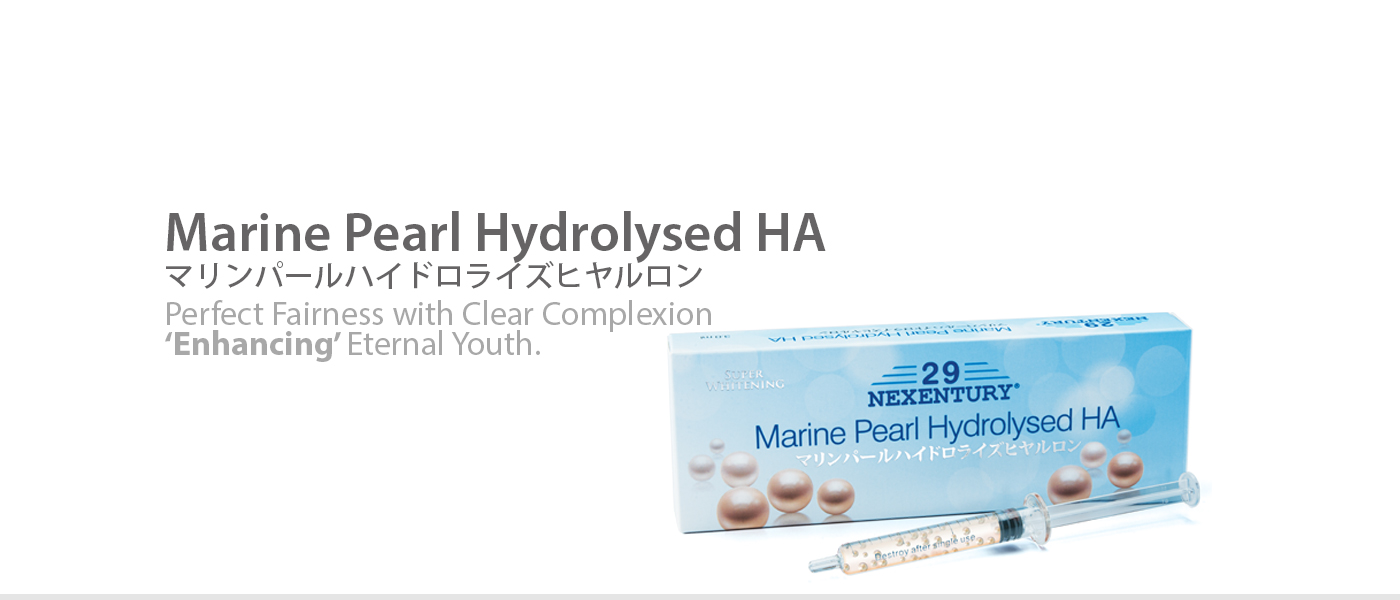 RM 0.00

In Stock
Payment Method, Shipping Terms & Refund Policy
Main ingredients:
Hyaluronic Acid is a naturally-occurring substance found in the epithelial and connective tissues. It is made from Alaska Deep Sea Fish under patented technology which has gone through hydrolysis process that yields low molecular weight hyaluronic acid (LMWHA; ∼0.8-8×10(5) Da). Absorption of it have been amplified as it can penetrate to the deepest layer of the dermis. Its cross-linking properties further improve moisture retaining ability and higher resistance to degradation, making a longer lasting treatment.

Pinctada Maxima is the largest and precious oyster species which harvested from Japan as it yields highest nutritious content gold pearl, White South Sea Pearl. With Japan's invention, pearl's essence have been extracted and formulated and known as Hydrolysed Pearl. It contains variety of essential amino acids which whitening skin tone and improving skin texture, thus brings out glossy and shinning looking skin.

Hydrolysed Jellyfish Extract is the newest and most recommended source of marine collagen as it comprises high concentration of collagen type I and III which are important in skin foundation. It is made from the well-known immortal jellyfish from Japan, Turritopsis Nutricula. It is non-toxic and unquestionably harmless. Its extraordinary cell regeneration ability helps our skin cell to remain younger and acts as skin strengthening agent!
Indications:
Marine Pearl Hydrolysed HA of 29NEXENTURY is the latest intervention in anti-wrinkles, anti-aging and super whitening treatment. Research revealed that the product is indicated for the following conditions:
1. Slow the aging process.
2. Reduce oxidative damage by promoting premier antioxidant enzyme.
3. Moisturize skin, improve elasticity and reduce wrinkles.
4. Enhance rejuvenation and regeneration of skin cells.
5. Improve skin tone by inhibiting production of melanin.
6. Enhance the absorption of essential skin forming nutrients.
7. Beautify skin texture by reducing pore size.
8. Strengthen and increase the volume of hair shaft.
9. Providing structural support to the follicle by magnifying keratin formation.

Dosage:
Marine Pearl Hydrolysed HA is advised to be used under the supervision of well trained professionals. In general, depending on individual's condition and expectations, it may be used at a higher dosage or frequency in certain conditions.
Each syringe tube (3ml) contains: (1 x 3ml)

Hyaluronic Acid 500mg
Hydrolysed Pearl 750mg
Hydrolysed Jellyfish Extract 1000mg
Contraindications:
Hypersensitivity to Hyaluronic Acid, pearl or jellyfish related products.
Storage:
Keep in cold, dry place and avoid exposure to direct sunlight. Keep out of reach of children.
Made in Japan
Ministry of Health Malaysia Reg No: NOT191004481K
Product Code: AW609